A trip to The Market by Evin O'Keeffe. We thought this was too nice of a post not to share.
This post on instagram by Evin O'Keeffe really incorporates the magic of Cork's English Market, the traders and the amazing food and offerings available. We are proud to work in this little community and each day offers something different.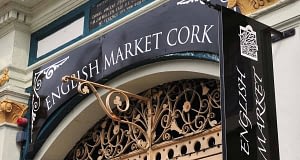 Have a read of Evin's routine trip to The English Market.
"It's a beautiful day in the neighbourhood. I feel very out of place most days. My intonations are different, My accent is different, My vocabulary tries to fit in. I don't understand 99% of Irish pop culture references. In spite of all this, there are a few things which make Cork feel like home these past 11 years. One of the ones is the English Market.
It's in my routine at this point. I pop in for gingerbread cookies for the boys and callah bread for me at Alternative Bread Company and can pick up meat for dinner (and a jar of local honey for a sore throat) across from these at P. Coughlan Butchers.
Then AH usually points to O'Flynn's Gourmet Sausage Company to ask for a sausage on a stick.
Pick up ranch dressing and jarred artichokes at Mr Bells. Then across from there i'll get polenta or maize for homemade combread, an expat stable for me, or molasses for baking. When we make pizza, I get garlic-stuffed olives for my topping from The Real Olive Company which also sells Toons Bridge. Then a local treat like jam or produce from Roughty Foodie.
I'll treat myself to scallops from K O'Connell Fish Merchants. No one else eats scallops at home so there's a tiny bit of mother guilt to treating myself, but it has to be done. Then some of the smoked salmon spread from Frank Hederman And for homemade Cajun dirty rice or soups, I can't be without the bone broth from The Chicken Inn.
Then maybe a macaron from Hassets Bakery or when the occasion calls for it, a birthday cake. Always free-range eggs from Glenys Landon. Naturally, I get cooked slices of spiced beef from Tom Durcan's for quick sambos. If I ever need a gift ofr a friend, there's The Chocolate Shop or david Chocolatier.
Or if I just want a bite to eat with life swirling around me, I can go to Cafe Marius or Farmgate.
That's just a few of the spots. But it feels like home. And then there's Iago Cork just on Princes Street for fresh pasta and pizza dough for make-our-own pizza at home. "
Wow! Wouldn't you agree?
"But it feels like home"