A big thanks to everyone who mentioned, tagged and even debated that our gourmet sausage sandwiches are among Cork's best sandwiches!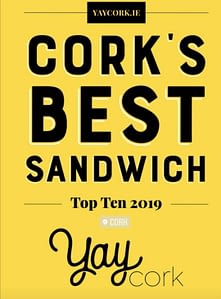 Yay Cork put out a very controversial tweet asking the public to give their opinions on the best sandwich in Cork. We got suggested with some of our sandwiches such as 'The Chorizo Chilli Dawg', 'The Pana Dawg' but it was the good old "The Cork Boi!" that won out in the end!
We ended up in the top ten of Yay Cork's 'Complete guide to Cork's best sandwiches' which we are absolutely delighted about!
You can sample "The Cork Boi!" from our stall in The English Market or from our restaraunt on Winthrop St.
Congratulations is in orders to our neighbors The Long Valley Bar across the road in Winthrop St! They came out on top with their very popular corned beef salad sandwich.
Check out the full list here
So the question now is… Have You Tried A Cork Boi? After all, They it is among Cork's Best Sandwiches!