Cork City's Hidden Gem – The English Market
The History of The English Market
Situated in the heart of Cork City, The English Market is a food market that has been serving the people of Cork and its visitors since 1788.
The English Market offers exciting new foods from afar long with locally sourced meats all backed up by traditional Cork flare. The Market is widely known for its quality meats and fish, herbs, spices, fruit and vegetables, specialty cheeses and more.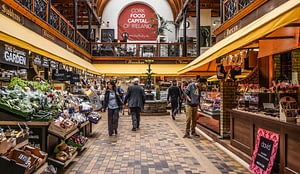 The term 'English Market' was given to this site in the 19th century to distinguish it from the nearby St. Peter's Market, or as it was known back then 'The Irish Market'.
On June 19th, 1980, The Market received serious damage after a fire and needed to be refurbished. Only a few years later The English Market suffered more damage. In 1986 another fire broke out but fortunately was less damaging than the first.
The Market is one of the oldest municipal markets of its kind worldwide. Developed and owned by Cork City Council. The personalised service you receive along with the variety of products is simply unique. The appeal that The Market has to offer simply cannot be replicated.
This civic space has not only become a bustling social hub for the Cork, but it has become a pride of place for the City and is now often referred to as 'Cork City's Hidden Gem'.
Many of the traders in The Market are long standing family run businesses. These small scale businesses have been producing traditional Cork foods along with exciting new products for generations.
This market is now widely celebrated by visitors to Cork City. It has become a much loved landmark on lee side a must visit if your are coming to the city.