We make sausages. #ProperSausages!
We are a family run business where we are all about making the best, most succulent and tasty sausages we can.
Using only the finest of locally sourced meats with a blend of specially chosen ingredients. We bring our valued customers, what we like to call … Proper Sausages!
Our business was established in back in 1921. We are fourth generation Sausage Maker's and pride ourselves on our quality service and flavourful food. Our family has been feeding the people of Cork for over 10 decades.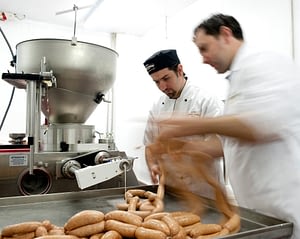 When making our sausages we use a blend of the old along with the new to create our delicious sausage, all our sausages have unique flavours that have become so popular all over Ireland and even further.
From the local traditions of the Cork Boi Sausage to Sweet Italian, we are always looking for new flavours.
We love to create sausages that our customers can enjoy. You can find us in our restauraunt on Winthrop St, or at home in Cork's English Market.
In our specially designed production facility in Wilton, we blend all our own sausage seasonings in our Spice Room.
Our spice room is where we think, talk and share our love of making gourmet sausages.
As we like to say, we make sausages … #ProperSausages!