Our Irish Breakfast Sausage is a midly spiced traditional pork sausage.
Our sausage makers use a blend of white pepper, sage, cayenne pepper and mace.
Traditionally in Ireland, sausages were made locally in all the towns and villages by butchers. Each would have their own individual recipes.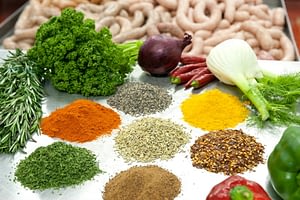 Generally the sausages were made using different blends of herbs and spices. They choose from Black Pepper, White Pepper, Mace, Nutmeg, Cayenne Pepper, Sage, Thyme & Garlic.
The Irish Breakfast Sausage is the most traditional in flavour from our gourmet range. You can find this in a selection of retail stores or from our stall in The English Market.
For a full list of our stockists, click Here