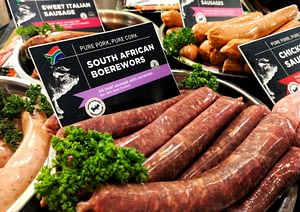 Our sausage makers craft these traditional South African Boerewors using locally sourced beef with a blend of coriander.
The name means "farmer's sausage" and comes from a combination of the Afrikaans words boer (farmer) and wore (sausage).
Our South African Boerewors are made with a minimum of 95% meat and are gluten free.
These sausages are an ideal addition for a BBQ!
Available from our stall in The English Market.