Using a traditional recipe, we create the sweet Italian pork sausage with a blend of Italian herbs & spices.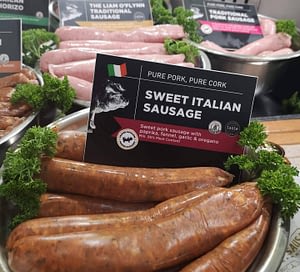 The team create this great taste award winning sausage using a carefully selected blend of paprika, fennel, garlic and mixed herbs including oregano.
This sausage has a distinct sweetness, that flavour comes from the fennel seeds used.
The Sweet Italian Sausage derives from the American/Italian communities in North America and much publicised in American TV shows most notably "The Sopranos".
A meaty sausage with  a minimum of 90% meat content, this sausage is also gluten free.