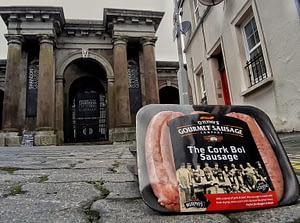 Our Sausage makers have been creating this award winning sausage for many years.
It is made with locally sourced Pork & Beef, this sausage is made with onions, fresh thyme and Cork's famous Murphy's Irish Stout.
"The Cork Boi!" is inspired by the area where our family originated in the early 1900's.
At the time, Cork was a hive of activity with local family butchers, The Butter Exchange, Shandon and of course Murphy's Brewery.
"The Cork Boi!" sausage is our tribute to all things Cork.