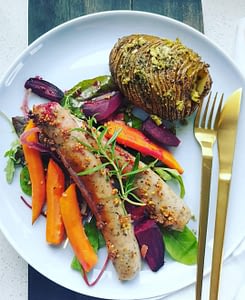 A huge thank you to Malwina from 'My Kitchen Heaven' for creating this delicious Oven Baked Garlic and Herb Sausages dish!
Malwina has previously created some amazing dishes for us already. We couldn't be happier that she has created yet another one using our Proper Sausages. Be sure to check Malwina out on Instagram and Facebook for some food inspiration!
This dish is easy to create at home by using our delicious Garlic & Herb Sausages.
Our Garlic & Herb Sausages are crafted with pork sourced from West Cork which is then mixed with a wonderful blend of roasted garlic and mixed herbs.
You can find our Garlic & Herb Sausages at Cork's English Market or from selected stores nationwide.