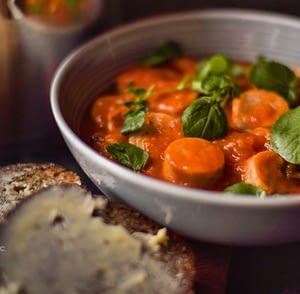 Make sure you try Wild Atlantic Taste's Spicy Sausage Casserole dish!
Just like this recipe, they have been created their dishes using inspiration from the Wild Atlantic Way
This Spicy Sausage Casserole recipe from the Wild Atlantic Taste uses our meaty Pork & Leek sausages in a tasty, spiced tomato sauce. This tasty  economical meal is best served with Irish brown soda bread. Nutritious but straightforward and perfect for a mid-week family meal.
They recommend using our Pork & Leek sausages with can be found in Cork's English Market.
Recently they also created a delicious hearty Bangers & Mash recipe using our Cumberland Sausages.
Check out more tasty recipes just like this over on their site.