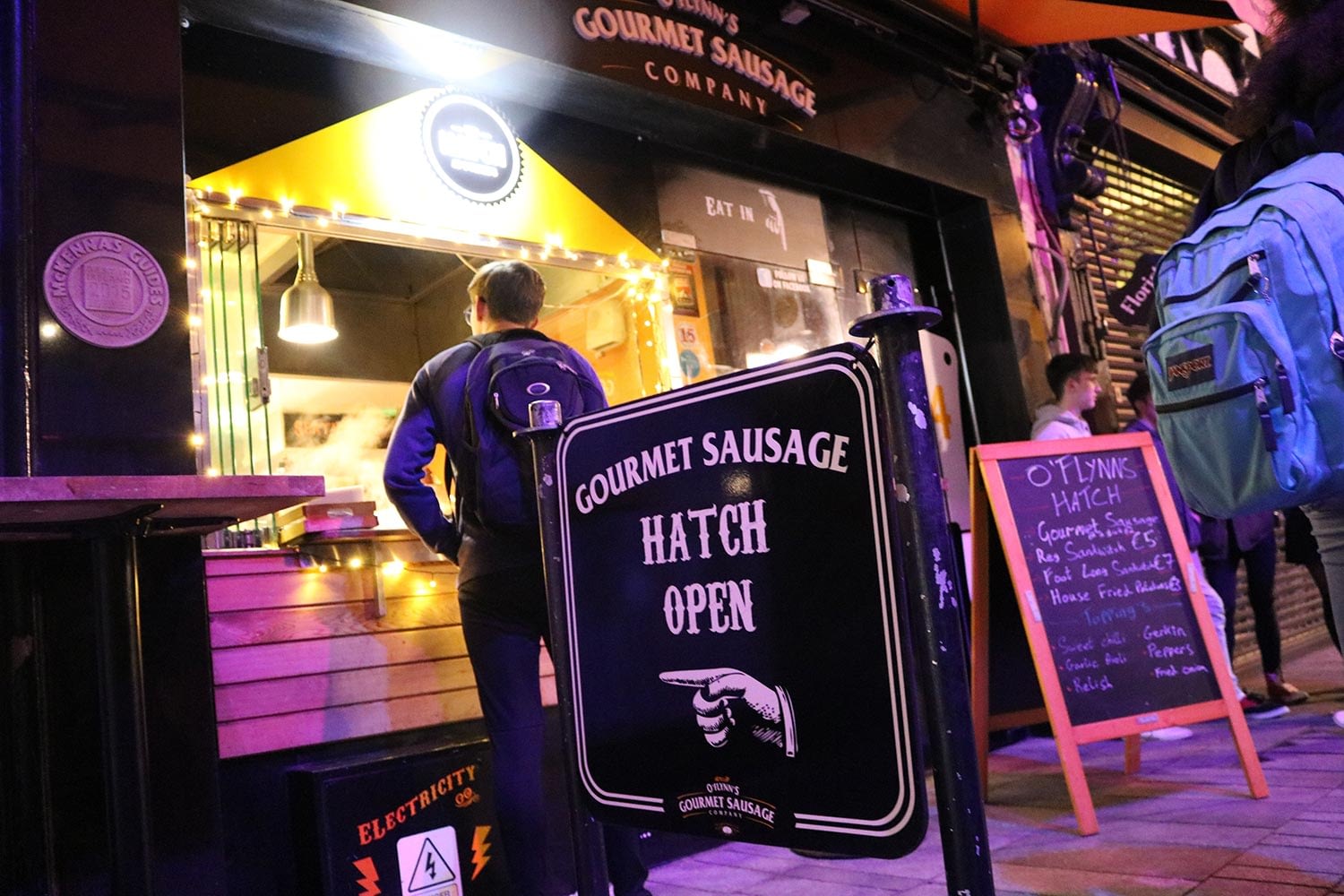 While walking down Winthrop Street you will see an array of sizzling gourmet sausage's cooking with the aroma of crispy bacon, fried onions and spicy house fried potatoes coming from our hatch.
Eat in or take out one of our many signature Gourmet Sausage sandwiches. Try 'The Cork Boi' with your choice of sausage served in a freshly baked roll with relish, caramelised onion, ketchup and mayo. Or, if you're a fan of spice, try our 'Chorizo Chilli Dawg' with your choice of sausage, chilli aioli, Mexican Chorizo Sausage meat, cheese, jalapeños, tortilla chips & mayo, all served with our house fried potatoes.
For Breakfast you can try our gourmet Breakfast roll of sausage, dry cure bacon & crumbled black & white pudding or a Cork favourite – the O'Flynn's breakfast box. This is Street Food, Cork style!
GOURMET SAUSAGE SANDWITCHES
Grilled gourmet sausage, sweet chilli, fried onions, mixed peppers, ketchup, mustard, mayo (Footlong option + €2)

Grilled gourmet sausage, BBQ mayo, salad leaves, cheese, gherkins, BBQ sauce (Footlong option + €2)

The Italian from Brooklyn

€5

Grilled gourmet sausage, aioli, fried onions, house fried potato, mixed peppers, ketchup & mustard (Footlong option + €2)

Grilled gourmet sausage, BBQ Mayo, pulled pork, gherkin, crispy onion, BBQ Sauce (Footlong option + €2)

Grilled gourmet sausage, chilli aioli, mexican chorizo sausage meat, cheese, jalapenos, tortilla chips & mayo (Footlong option + €2)

Grilled gourmet sausage, sweet chilli, fried onions, mixed peppers, ketchup, mustard, mayo (Footlong option + €2)
House fried potatoes, red cabbage coleslaw, choice of sauce, gherkins

Mexican Chorizo Sausage Meat

€8

House fried potatoes, tomato salsa, aioli, tortilla chips

Slow Cooked Pulled Pork

€8

House fried potatoes, red cabbage coleslaw, BBQ mayo, gherkins
Mixed Green & Bean Salad

€3

Served with Aioli
Coke | Diet Coke | Sprite | Orange | Lemon |

Coke | Diet Coke | Sprite